I've seen a lot of photos from the red carpet on my travels through the Blogosphere today, so I thought it was only right that I share some of my favourites as well. Although, I have to say in general I was very underwhelmed by most of the choices, and I only really "loved" one look in particular...although maybe that has more to do with the person wearing it!
First of all we have Kate Bosworth wearing Calvin Klein at the post party. I think she could use a nice gold statement necklace, but on the whole I like the simpleness of this look. Especially her Alexander Wang inspired side plait.
Maggie Gyllenhaal wears a beautiful one shoulder peachy number from RM by Roland Mouret. I think the colour really works well with her pale complexion, and the slim fit of the dress really shows off her slim figure.
90210 star AnnaLynne McCord looks positively Goddess-like in her grecian inspired Lloyd Klein gown. I especially like the unusal cut out on the bust and her statement Rebecca Minkoff gold clutch and bracelet really finishes the look.


Anna Paquin wore my second favourite look of the night, with this stunning gold sequinned dress by Stella McCartney with a very daring plunging neckline- which I love! The texture of the sequins is very interesting- very art deco- it sort of reminds me of a Klimt. She looks very glamorous in floor length sequins, but has rightly has kept the accessories simple with her black box clutch.
Emily Blunt wears a strapless dusky pink gown by Dolce & Gabbana with delicate ruffled details. I think we will be seeing a lot of this look this summer, and I for one love this sweet sorbet palette.
Sandra Bullock was looking fabulous in a show stopping, jewel toned gown by Bottega Venetta . She got it spot on with this deep purple shade, which looked stunning on her.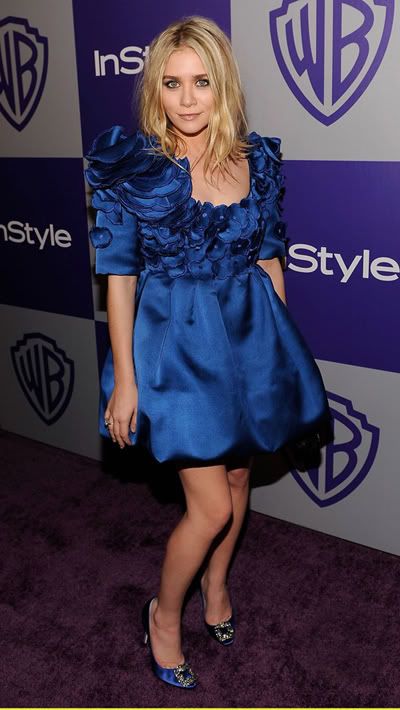 And lastly, we come to my favourite look of the night. Ashley Olsen in Erdem! I must say I was a bit surprised to see her wearing this, as she usually goes to more classically glamorous looks, but I think this beautiful blue Erdem dress really works on her. The young, girlish silhouette really works on her petite frame...she looks sort of doll-like with her bob- in a good way! And the blue colour brings out her eyes. The intricate corsage details and the matching Manolos are amazing! Love it! But where was Mary Kate??