I think it is safe to say that Paris was definitely my favourite Fashion Week. There were so many amazing collections to blog about, I had a really hard time editing down picks from my favourite collections in to manageable and readable posts. However I could not resist posting quite a few (!) looks from Jean Charles de Castelbajac's AW 10 collection.
I had never really seen his work till this year, and when I saw the models bopping down the runway wearing antlers and dresses emblazoned with giant Bambi prints I was hooked! I later discovered he was the one responsible for the Kermit the Frog dress, as worn by Lady Gaga, and he has also created a number of the pieces featured in her new video. I have a bit of a thing for Bambi/Deer prints- I think it all started last year with that beheaded Bambi dress that Lily Allen wore by Giles. And I subsequently bought a pink tea dress with a deer print all over it...anyway I digress!
The collection was inspired Lady Godiva, with lots of medieval influences present- in the looks above it can be seen in the tapestry-like leaf print on dresses, the 2 piece suit with high-necked ruff collar and the pixie hooded coat. Combined with the cute Bambi prints and whimsical antler headware (what is it with ears/antlers at the moment? They seem to be everywhere? Bunny and mouse ears at Maison Michel, more antlers at Topshop Unique) antlers, the collection takes on a modern Fairytale feel.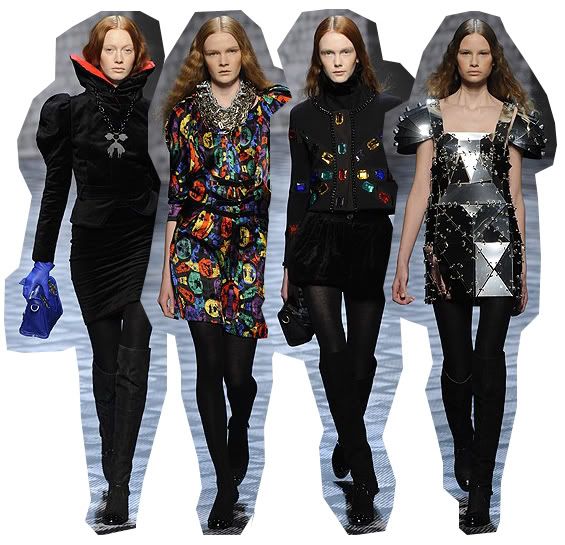 But Castelbajac's models were no damsels in distress- rocking down the runway in multi-buckled, strong shouldered coats in gleaming silver and castle stone print. There was hardwear-a-plenty with armoured dresses constructed from sturdy panels of acrylic and necklaces consisting of heaps of heavy looking chaining and long medieval talismans.
Colour was injected in to the collection through the use of stained-glass window prints and rainbow jewels featured on dresses and sculpted jackets.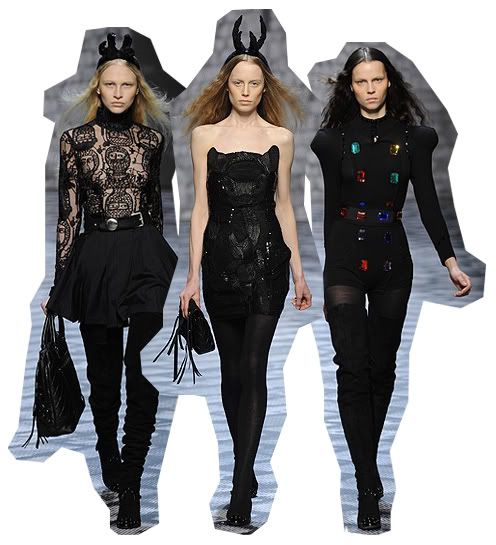 A few of the more wearable pieces were some killer little LBD's (antlers optional). Castelbajacs maidens have no use for a Prince Charming... in this collection she could be her own Knight in Shining Armour!
pictures from WWD.com, collages by me.