I came across these images the other day and they reminded me of some of the cute details from the Miu Miu SS10 collection...look at those cats! (I'm a little bit obsessed with cats.) This was a very playful collection; in addition to the cats there were also little doggies and naked lady (?) prints everywhere.
The chunky girl-like plaits and painted on eye lashes also added to the lolita effect. And on top of that the campaign featured a very doll-like Lindsey Wixson.
But I couldn't help but wonder how wearable this collection would be in the 'real world'? Luckily several celebs have been spotted sporting it of late to help me make up my mind...to varying degrees of success in my opinion!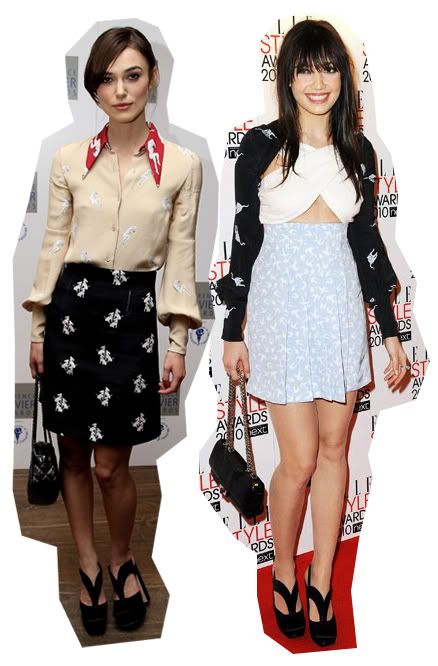 Daisy Lowe wore Miu Miu to the Elle Style Awards, and I think wears it better of the two. I was a bit dubious of the cross over front on the dress at first, but I actually think she pulls itoff= she's just that 'kooky'.
On the other hand, I was quite surprised to see Keira wearing this collection. She has gone for the 'safer' pieces unlike Daisy, in the form of a sensible blouse and skirt combo but I was still surprised to see her in this quirky ensemble- she is usually much more classic in the way she dresses. But without the accessories and naked lady print on the skirt and blouse, I think she may have been in danger of looking like a librarian but a nice change to see her in something like this.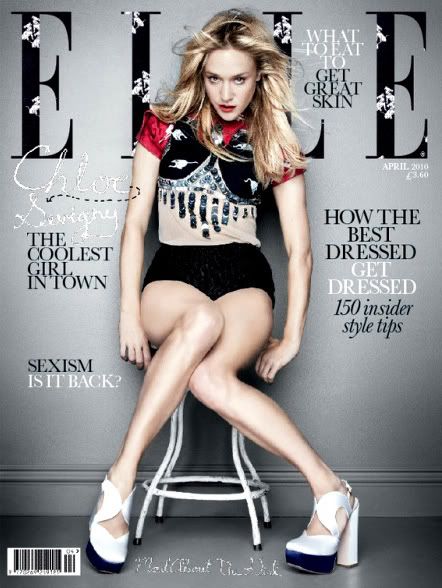 However I have saved the best till last! As I was writing this post today, I happened to stumble upon the latest cover of Elle over on
Coco's blog.
It's simple fashion maths really:
Chloe Sevigny + Miu Miu SS10= match made in heaven.
Looooove it! Chloe really is the coolest girl in town.
pictures from: celebrity-gossip.net, Coco's Tea Party. Collage by me.