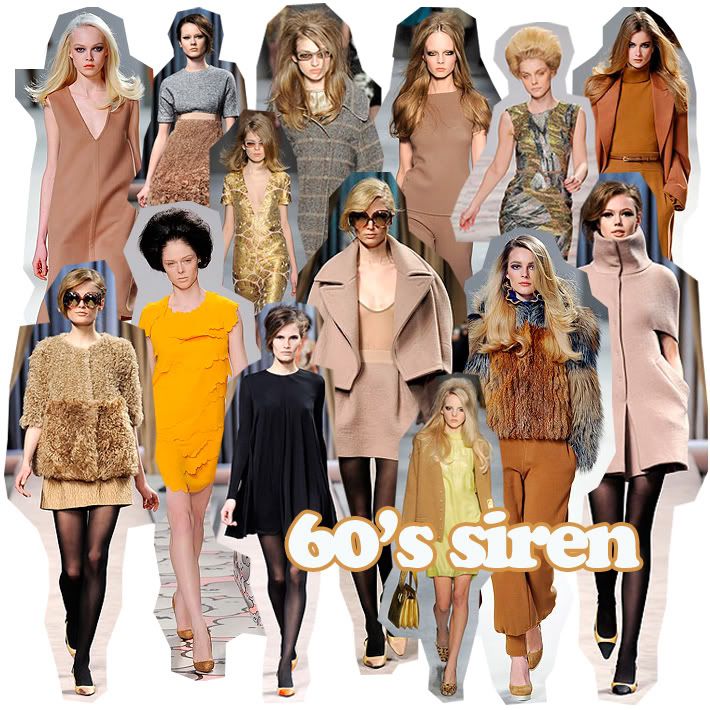 Phew! Paris Fashion Week is finally over! And there were sooo many collections that I wanted to blog about straight away, but alas I have been working all week and now it just seems silly to do them one by one as most people have already seen them. So, I have edited together some bits from my favourite collections and categorized them very broadly in to two different looks.
There was definite retro theme throughout a number of the collections at PFW with a number of designers including Chloé, Giles, Giambattista Valli and Rochas all sending 60's inspired ensembles down the runway.
Giles kept the association light with beehives and an orange and brown palette, but still mixed it up with his own quirky accessories, which consisted of furry monster handbags and huge sculpturual metal headdresses.
Whilst others were more literal in their interpretations- pussy bows, and shaggy fur jackets at Chloé, huge retro shades at Vali, and bouncy blow drys and zany colour combinations of camel, turquoise and plum at Rochas.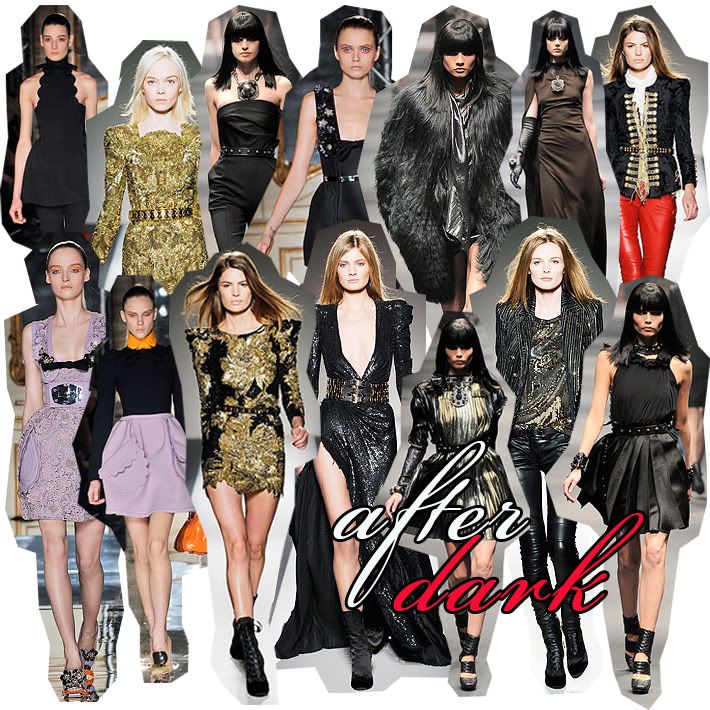 Being an AW collection there was unsurprisingly a lot of black-but maybe more surprisingly alot of glitz, glamour and embellishment as a few designers decided to kick back against 'recession-safe' dressing. Balmain was as opulent and sexy as ever, this season with golden brocade covering the tiny form fitting dresses and jackets, all with Decarnin's signature silhouette.
Lanvin went to the Dark Side, with many well known faces barely recognisable as the models stalked down the runway in black blunt bob wigs and blackened eyes. The theme of dark glamour was continued with the body conscious, seductively tailored pieces that Lanvin is known for, giving way to heavily embellished, gold and black evening dress shining jewels, feathers and tribal inspired accessories.
Miu Miu kept it's quirky cool with high collars, tulip shaped skirts and scalloped hems that made the models look like Russian Dolls. Night time glamour was added to the proceedings via dresses bearing sheets of rosettes, overlays of lace and bright purple feathers. And peek-a-boo cut-aways on the torsos of short sculpted dress, as seen in the SS10 collection, hinted at the subversive nature of the collection.
pictures from style.com, collages by me.