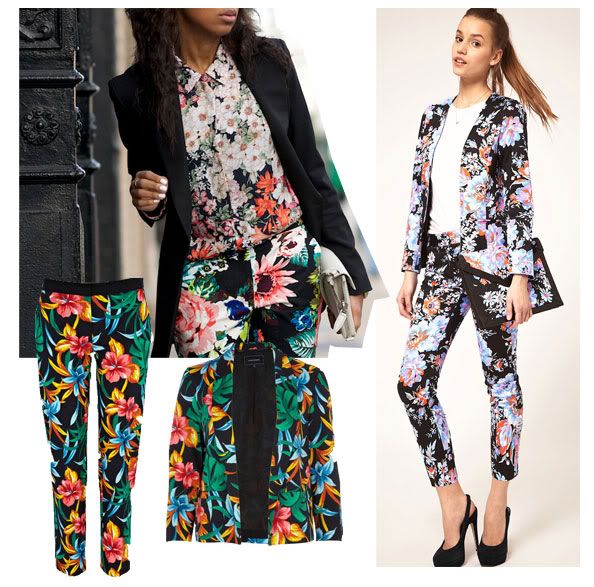 clockwise from left: shirt from Zara, pants from H&M, printed trousers and jacket from ASOS, tropical print trousers and jacket from River Island
clockwise from left: pink jeans and shirt from Elizabeth & James Textile, white jeans and tshirt from Elizabeth & James Textile, pink shrunken blazer and shorts from Topshop, peach blazer and shorts from Topshop
Today I realized that I am totally obsessed with the idea of matching top and bottom halves. I don't know when this idea became acceptable in my mind but I assume it has come from many months of subconsciously absorbing the trend through various fashion blogs.
Whether it's a matching suit jacket and trousers in nearly matching but not quite floral print, or the maybe slightly less visually offensive pairing of top and bottoms in pastel or bleached hues. The former seems to work best as a tailored suit combo a la Celine Resort SS12. But if your budget doesn't stretch to that the high street offers several more affordable takes on the trend. Whilst the latter seems to work equally well as deliciously comfy looking separates, like those from the Elizabeth and James Textile collection.
I have my eye on those printed trousers from ASOS, which would go just as well with a plain jersey tee as they would with a clashing shirt or jacket. What's your take on the trend? Would you wear matching top and bottoms?
images via wheredidugetthat, River Island, ASOS, vive magazine, Topshop